Inspired Fundraising
Show Your Bow to End Bullying
Posted: 8/15/2016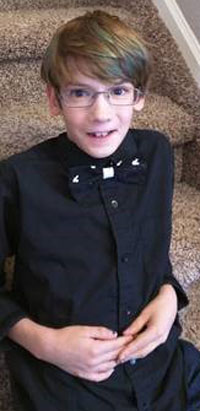 Hi, My name is Joey and I am an eighth grader in Colorado. My story is a sad one but it has a happy ending. When I was in fifth grade I was bullied by a group of boys because I did not fit in. You see I am a theater kid, I love acting and being on stage. These boys were into sports and since I did not like nor participate in sports I became their target. The teachers tried, but the boys were sneaky, and it was a very hard year.
The following year I moved schools for a new start. That is exactly what I had, with new friends. Unfortunately I still have the "stereotypes" that make me a target. I am very small, energetic, passionate and unique. One of my new "friends" got a bunch of students together and the spat on me in the cafeteria and walked away. I was emotionally upset. It was a wake up call! Do I want to be another statistic or do I want to help others not feel the pain and loneliness I went through? I made a decision then and there to make a difference for others.
With the help of my family, I decided to take my unique style and share it with the world. I have always worn bow ties and now I can customize them for anyone. I have science bowties, sports, music, anything you can think of I have a tie for that. I have created an ETSY sight and $1 of each tie goes to a bullying prevention organization to help all kids rise above and feel special. I want the world to SHOW YOUR BOW and END BULLYING.
Come see me on my site: https://www.etsy.com/shop/JoezBowz?ref=search_shop_redirect.
Permalink for Show Your Bow to End Bullying
Michael J. Cerroni Memorial 5K Run/Walk
Posted: 6/15/2016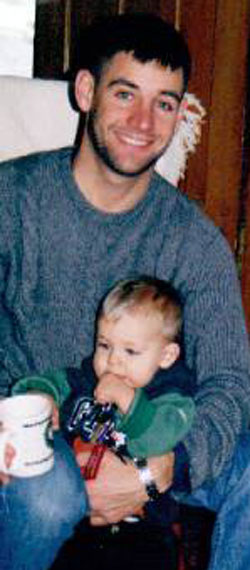 Throughout his lifetime, Michael J. Cerroni was an individual that stood up for others. Whether Michael was acting as a friend, a brother, a son, or eventually as a United States Marine, Michael felt a sense of obligation to help defend those being targeted unfairly. Michael's accomplishments in the military service are well documented, and underneath it all, his drive towards those achievements boiled down to one purpose; ensuring that each and every individual was given a fair chance in life.
On June 26th, Michael's memory will be honored at the 6th Annual Michael J. Cerroni 5K Run/Walk, in Black River, NY. At this event, the team from the MJC5K will help raise awareness and donations for the PACER National Bullying Prevention Center. The team behind the MJC5K believes that Michael would have supported this cause, and we are honored to help bring attention to a problem that has been largely overlooked for far too long.
Visit the Michael J. Cerroni Memorial 5K Run/Walk web page >>>
Permalink for Michael J. Cerroni Memorial 5K Run/Walk
Keke Soaps: "Always . . . be YOU!"
Posted: 6/6/2016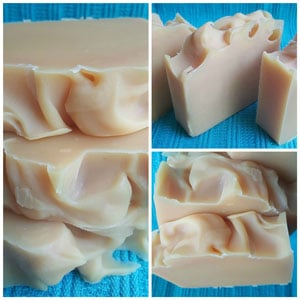 After experiencing bullying first-hand, 14-year-old Kealie McClain is sharing her experience through creativity to benefit PACER's National Bullying Prevention Center. During the month of October, National Bullying Prevention Month, KeKe Soaps will be supporting bullying prevention efforts through the sale of a special handmade orange soap, the official color of bullying prevention, and scented with a fruit loop type fragrance.
How can you help? For every orange handmade soap bar purchased, a $1.00 donation will be made to benefit PACER's National Bullying Prevention Center. Order the #BeThatOne soap online>>>
About Kealie: Starting in the fourth grade, I was bullied almost daily by a small group of girls. It started on the playground during recess, and spread quickly to anytime a teacher wasn't looking. Bullying followed me from school to the school bus where I was tormented by the older high school kids. My Mom realized something was up when I started coming home every day from school crying and then would go straight to bed. I wouldn't eat, I was always sad, and always afraid. Read more>>>
Permalink for Keke Soaps: "Always . . . be YOU!"
New York Riveters' Madison Packer Stands up to Bullying
Posted: 11/10/2015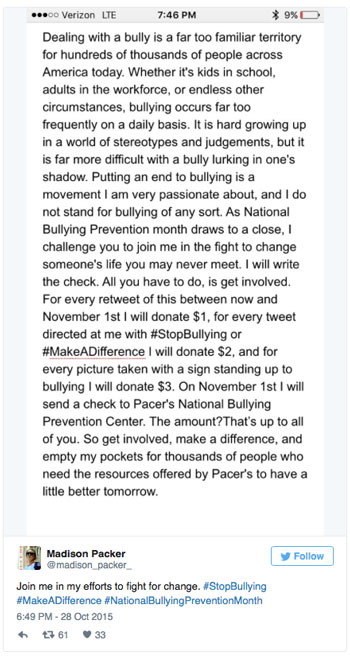 Though Madison Packer of the New York Riveters hockey team has never personally experienced bullying, she became aware of the effect it could have on a child's life when she began working with a suicide awareness and prevention organization after the suicide of a close friend. Madison has since made it her personal mission to help prevent bullying by talking about it with the children she coaches and visiting schools to discuss ways to stop it.
In October 2015, Madison held an online fundraising campaign for PACER's National Bullying Prevention Center using Twitter. Madison encouraged her fans to Tweet and share photos using the hashtags #StopBullying and #MakeADifference, promising that she would donate for each one. As a result, Madison raised nearly $300 for the National Bullying Prevention Center. Read article>>>
Permalink for New York Riveters' Madison Packer Stands up to Bullying
Jade and Gabe – Raising funds to show those that are bullied to see that they are not alone and that they have so many people by their side for support
Posted: 10/9/2015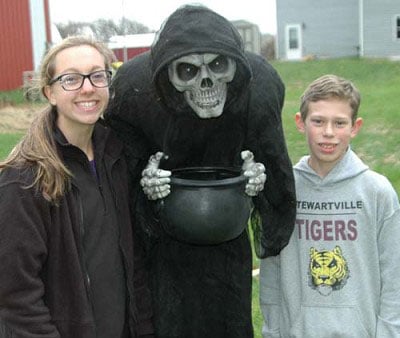 Jade Schmeling, left, and her cousin Gabe Nelson have hosted Spook City in the Woods, the annual fundraiser to fight bullying, for the past three years. Photo from Stewartville Star
Event: A haunted pathway through the woods
Dates: Friday and Saturday,
October 16 – 17, 2015
Location: Racine, MN
Cost: A free-will donation to support bullying prevention
Three years ago, Jade and Gabe founded Spook City in the Woods, a haunted pathway that leads guest through a forest filled with witches, zombies and more! Held in Racine, Minnesota, this event has been a huge success, raising over $1,500 in 2014. Spook City supports bullying prevention, as the cost to visit this frightening forest is a free-will donation to PACER's National Bullying Prevention Center.
"The exact details to how we thought of this type of creative fundraiser is a little blurry," say Jade. "But, Gabe and I both knew exactly where we wanted our fundraised money to end up. And that was in the hands of PACER's National Bullying Prevention Center. The topic of bullying hits home for us, as we've both been tremendously impacted with this current issue. Gabe has personally been attacked by the harsh effects of bullying and has firsthand experience with this awful issue. In my 7th grade year, 2012, one of my previous classmates decided to leave us because of the horrid effects of bullying. Gabe and I, we understand the pain. We understand the loss. We understand that bullying is not to be taken lightly. We want to make a difference in the world, and to stand up for what we believe in. We have come so far since our first year in 2012. We are so ever grateful for how much support we have received. Our journey with Spook City is only just beginning!"
For more information on Spook City in the Woods, visit their website or Facebook page!
Permalink for Jade and Gabe – Raising funds to show those that are bullied to see that they are not alone and that they have so many people by their side for support