In The News
Posted: 8/19/2019
A FILM ABOUT BULLYING AWARENESS AND PREVENTION FOR STUDENTS, SCHOOLS AND FAMILIES
PACER's National Bullying Prevention is excited to support the live action short film, LIKE US, created by The Family School Association (FSA) of The Ethical Community Charter School and the FSA Performing Arts Program, together with THISLEARNING®.
LIKE US is a unique project directed by Kris Van Nest, most known for his work in television and corporate videography, as well as teaching of filmmaking/video courses in Jersey City. With Assistant Director Ann E. Wallace, Van Nest led students in 6th - 8th grade through a ten-week screenwriting process starting in September 2018. The ten student screenwriters were challenged to tell a story with an ethical dilemma at its center and include a large cast of student actors. New York casting agent Meghan Rafferty was tasked with building a diverse cast, allowing all interested students in grades 2-8 to join the project while teaching them how to prepare for an on-camera audition. Over the winter, Van Nest introduced the participating students to everything they needed to know about rehearsing and film production. Both on and off screen, students learned technical skills, such as how to hold a camera and operate sound and lighting equipment. Equally important, they were taught not to judge themselves or each other during the creative production process.
PACER's National Bullying Prevention Center is a NEDAwareness Week 2019 Collaborator
Posted: 2/26/2019
National Eating Disorder Association (NEDA), a national partner, is hosting National Eating Disorders Awareness Week (#NEDAwareness) February 25 through March 3, 2019. We are NEDA to change the conversation around body image and eating disorders! Join the movement and #ComeAsYouAre, not as you think you should be. Learn more about how you can get involved at www.nedawareness.org.
Planet Fitness and NBPC Are Helping You Flex Your "Kindness Muscles"
Posted: 2/15/2019
One of the best ways to prevent bullying in a community is to lift people up through intentional acts of kindness and inclusion. That's why Planet Fitness wanted to do something big for Random Acts of Kindness Day on Sunday, Feb. 17.
To accomplish the heavy lifting of making "random" acts of kindness more "regular," Planet Fitness is inviting its Facebook and Instagram followers to tag a friend and comment how they regularly spread kindness.
For each comment, the company will donate $5 to PACER's National Bullying Prevention Center, up to $25,000. The campaign will run from Friday, Feb. 15 – Monday, Feb. 18.
In a national study commissioned by Planet Fitness, they found that everyday kind gestures are on the decline. Their social media campaign with NBPC hopes to address this issue and encourage people of all ages to find simple ways to incorporate kindness and inclusion in their everyday lives.
Check out the official press release from Planet Fitness.
The basics of banishing bullying
Posted: 2/5/2019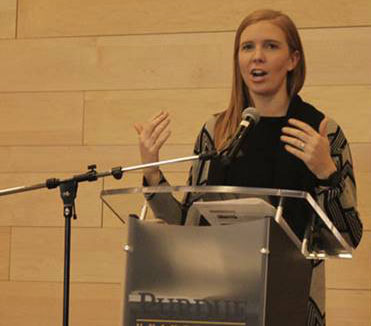 At a recent workshop in La Porte County, Indiana, Bailey Huston, coordinator of PACER's National Bullying Prevention Center, discussed the best practices of bullying prevention with nearly 100 local educators, advocates, and professionals. Huston instructed attendees on how to properly define and identify bullying, how to navigate the dynamics underlying bullying, and, most importantly, how to effectively intervene and advocate on behalf of those who experience bullying. Her presentation also covered the differences between bullying and conflict, as well as when bullying can qualify as discriminatory harassment.
Educators, school counselors, juvenile probation officers, social workers, law enforcement officers, mental health professionals, volunteer mentors, foster parents, and more came together to discuss these best practices and to share their knowledge and resources with one another. Huston made it a goal to pair her extensive knowledge of bullying prevention with their wisdom about the community—that relationship, she explains, is what paves the way for real growth.
Read the full article by staff writer, Kelly Smith, at The Michigan City Dispatch.
Order the Create a World Without Bullying Event Kit and/or 5-Poster Series
Posted: 1/3/2019
Together we can create a world without bullying! The event kit is designed so that anyone can set up a display (in the classroom, library, hallway or event) with print resources to educate and engage participants about steps each one of us can take to help prevent bullying. Each kit has materials for up to 50 participants. Kits are available for $50.
Special offer: The 5-poster series from the kit can be ordered as a stand-alone resource. These colorful, educational visuals are excellent reminders for students. The 5-poster series is available for $10.
Signs Your Child is Being Bullied, And What To Do About It
Posted: 12/11/2018
Taylor Pittman, in an article on HuffPost.com writes, One of the hardest parts of being a parent or caregiver can be letting go. It can be both exciting and scary to see your kids grow up, make their own decisions and build friendships. And if a bully enters the picture, it's difficult to know exactly what to do."
She spoke with experts with backgrounds in bullying prevention initiatives, including Julie Hertzog, Director of PACER's National Bullying Prevention Center, about the signs many children display if they're being bullied at school, at extracurricular activities, online or elsewhere. These experts also shared helpful advice about what parents can do to resolve the situation.
Read full article on HuffPost.com
Bullying is Nondiscriminatory in How it Discriminates
Posted: 12/4/2018
Written in collaboration with PACER's National Bullying Prevention Center
Those who bully are not always the stereotypes portrayed in movies and television shows. While many people think bullying is demonstrated by individuals such as Regina George (Mean Girls) or Biff Tannen (Back to the Future), too often they aren't an obvious living, breathing typecast. The same can be said of the individuals who are the targets of bullying – they are not always the smallest, weakest, 'unpopular' children. There are many forms of bullying and it happens largely due to a lack of understanding or knowledge about something that may appear different. The truth is it can happen to anyone, by anyone regardless of the age or setting.
Read full article at Tourette Association of America website.
Cartoonists Unite for Kindness, Acceptance, and Inclusion
Posted: 11/15/2018
In a colorful and fun display of support for bullying prevention, King Features Syndicate (a division of Hearst Publishing) called upon its cartoonists to create comic strips to educate readers about what bullying looks like and how to be proactive about bullying prevention. Working closely with PACER's National Bullying Prevention Center, these cartoonists celebrated Unity Day by promoting kindness, acceptance, and inclusion and incorporating the color orange, the official color of bullying prevention, into their strips or featuring storylines that highlight the many different forms of bullying that take place today.
Led by Isabella Bannerman — and the Six Chix creative team of Martha Gradisher, Susan Camilleri Konar, Mary Lawton, Benita Epstein and Stephanie Piro — more than a dozen King Features cartoonists participated and stood with millions of others around the world to say no to bullying.
"Every day thousands of people experience bullying, whether at home, school, work, or on the street. After speaking with the National Bullying Prevention Center, a project of PACER, we were inspired to highlight their efforts and all the good they do in our strips during bullying prevention month," said Six Chix cartoonist Isabella Bannerman. "We are thrilled that King Features offered so much support and rallied our fellow cartoonists to help raise awareness for this important movement."
Maryland school district stands united against bullying for Unity Day
Posted: 10/17/2018
Anne Arundel County School District in Maryland is sending a powerful message of unity this month. The whole district is celebrating Unity Day together using NBPC's resources, including 900 NBPC Unity Day posters to display in its 128 schools! Working together with PACER's National Bullying Prevention Month, AASD's superintendent George Arlotto led the charge to put Unity Day on his district's map, writing in a local newspaper that "[the] AACPS family has been encouraged to wear orange on Oct. 24 to create a powerful and visible statement that we are committed to fostering acceptance and inclusion and eliminating hate and bullying."
Learn more about NBPC's Unity Day Resources at www.pacer.org/bullying.
National Bullying Prevention Center partners with Ad Council to prevent bullying
Posted: 10/12/2018
PACER's National Bullying Prevention Center is working with the Ad Council on the #BecauseOfYou campaign! This new bullying prevention message aims to heighten self-awareness and reflection among teens. Asking questions like "What would someone write about you in your yearbook?" and "How do your actions make others feel," the campaign pushes young people to consider how they affect others' lives and ask themselves, "What has changed in the world, because of me?"
The campaign has several colorful and creative images to include with responses as individuals contribute to a kinder, more accepting and inclusive culture through their thoughtfulness.