Founded by PACER's National Bullying Prevention Center in 2006

Every October, individuals from the across the nation – and around the world – unite in a campaign to keep all youth safe from bullying.

The campaign is a catalyst for:

Involving a nation to take action at the local level to create safe and supportive schools
Offering information and education about how everyone can prevent bullying
Providing a platform to hold school and community events
Sharing information about the issue through news media, social media, videos and print publications
Talking with education and public policy leaders about their roles in bullying prevention
Promoting dialogue between educators, parents and students on their roles in addressing and preventing bullying
Encouraging organizations to share information about their bullying prevention resources
Inspiring everyone to unite for kindness, acceptance and inclusion
Helping to create a world without bullying

Show Your Support
Every day thousands of young people experience bullying from their peers while at school, after school in their neighborhoods, and even when they are at home, through social media and texts. There are many ways to support bullying prevention as an individual or with friends and family, and within your school or community.
For an individual
For a School or Community
5 Ways to Celebrate NBPM | PACERTalks About Bullying: Season 2, Episode 5
October is National Bullying Prevention Month! Initiated by PACER in 2006, this is a great time for schools, organizations and individuals to raise awareness about bullying and the role we all play in making a difference. In this episode of PACERTalks About Bullying, you'll learn 5 ideas on how to celebrate National Bullying Prevention Month in your community.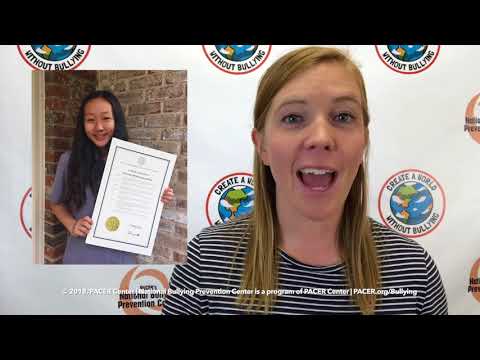 Order the t-shirt
Unity Day: Wear and Share Orange!
Together against bullying. UNITED for kindness, acceptance and inclusion.
Make it ORANGE and make it end! What are your true colors when it comes to showing that you care about preventing bullying? Come together in one giant ORANGE message of hope and support, WEAR and SHARE ORANGE to color our nation, and even the world, visibly showing that our society believes that no child should ever experience bullying. Learn ways to get involved.
Activities
Hold a Pledge Signing Event: An opportunity to involve everyone to make the commitment to unite against bullying.
Create A Unity Tree: An interactive and hands-on activity, a shared experience in which anyone can participate and everyone can watch the tree grow. Each person contributes their own unique experiences, creative ideas, and strategies by writing positive messages on leaves that are attached to the tree.
Project Connect: Invite students to write a message on a strip of ORANGE construction paper. The strips are then stapled or glued together, resulting in one long, connected chain that visually represents the power of uniting for a common cause.
Classroom Toolkits
One-day or single event classroom lesson plans
Week-long classroom lesson plan
Year-long classroom lesson plans
Special Events
A family-friendly event held by schools, businesses or communities to show the nation's commitment to keeping students safe while at school, in the community, and on-line. The event can be accompanied by pre-and post- activities such as games for kids, speakers, music, prizes and dance.
Hold An Event
Resources, activities and giveaways for up to 50 participants to share at a school or community event. This kit, which sells for $50, provides adults or students with everything needed to engage individuals to take action steps in their school and community.
Top 10 reasons to celebrate
The number one reason to celebrate? You can be a part of a cause that's uniting a nation! Historically, bullying had been viewed as "a childhood rite of passage," but National Bullying Prevention Month is now a nationwide call to action — providing schools, parents and students with the educational resources and support to better respond to bullying behavior.